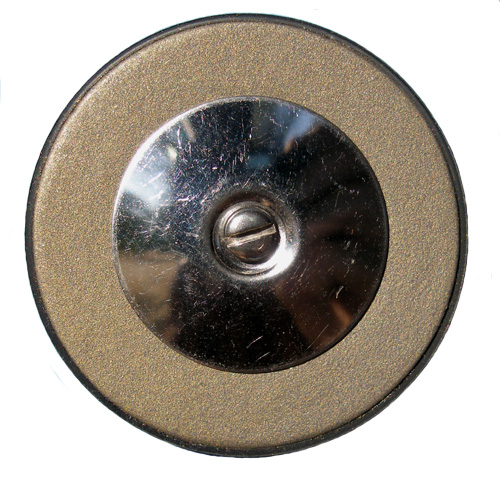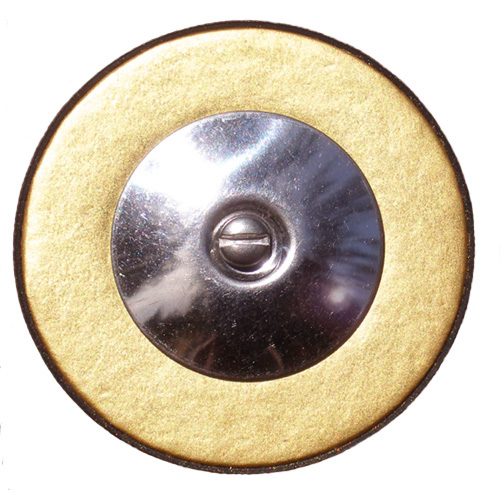 Choose between Black Gold pads (left) or Pure Gold pads (right)
pat. #6344604 & #6940007
GO FOR THE GOLD & IMPROVE YOUR TONE
JS Gold pads are the best sound producing, longest lasting and most stable pads you can have in your sax. JS pure Gold pads have Gold on the surface for the ultimate in tone. Metal particles are also embedded directly into the film. This high tech achievement gives you an extremely durable pad. Using a Metalized pad is like using a pad that is entirely resonator – all that beautiful tone is reflected to the listener. Leather deadens your tone by absorbing it. Recover all that lost tone by installing reliable JS pads. The flat soft surface makes a perfect, quiet seal when closed on the tone hole. They are well worth the cost and will save you money by lasting many times longer than leather pads. You will find the tone they bring to your horn to be unequalled by any other pad/reso combination.
VIDEO OF GOLD SAX PAD SEALING COMPARED TO LEATHER
JS PADS SHINE WITH THE FOLLOWING QUALITIES:
They fit right into conventional saxophone cups using the common floating method. Domed stainless steel resonators are standard. Domed smooth faced nickel silver resonators are special order.
They do not swell with moisture, warp, dry out, or rot.
JS Gold and Black Gold pads are airtight and seal better than common leather pads.
The pad surface is extremely durable, thin/flexible and the pads are quiet when closed against the tonehole.
BLACK GOLD
These special pads have a significant portion of black dry lubricant (MOS2) embedded into the surface along with the gold to prevent sticking. This dry lubricant darkens the color of the "Black Gold" pads.
PURE GOLD
The Pure Gold pad is the same as the black gold pad except that it has an extremely thin layer of gold added. It shines with wonderful tone and many players say the the Pure Gold sax pads have the best sound they have heard.
Smooth resos are also available.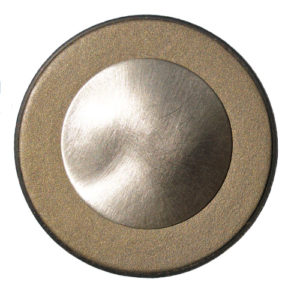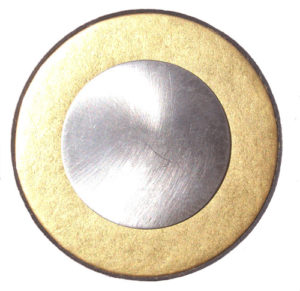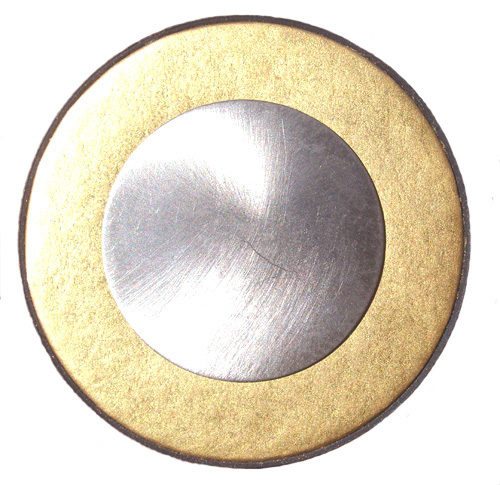 SELF LEVELING PAD SPRINGS FOR OUR STANDARD SAX PADS
Go to SAX PAD INSTALLATION for details on self leveling pad springs for standard pads.
SELF LEVELING SAX PADS WITH CENTER PIVOT AND SMOOTH RESO

The center pivot insures that pressure will always be evenly distributed around the tonehole rim for a perfect seal.

The center pivot ball joint is embedded into the back of the pad. It allows the pad to level itself and provides tension to keep the pad stable.
CLEANING
To clean a gold pad, insert an alcohol swab over the tonehole, close the cup and drag out the swab (or use rubbing alcohol on cloth). For any pad that has a tendency to stick – order "JS Magic Dust". This dry lubricant works great. It is non-toxic and being a lubricant – it can only help the keywork. JS Gold pads have a portion of magic dust embeded into the skin along with the gold. The dry lubricant releases slowly throughout the lifetime of the pad to prevent sticking.